09 Sep

BAROPLUG DUAL : SPECIAL OFFER FURUNO-FRANCE

Our innovation, the BaroPlug Dual, will be in promotion at our distributor Furuno-France at the Yachting Festival in Cannes and the Grand Pavois.

For a purchase of instrumentation FI170, BaroPlug will be offered!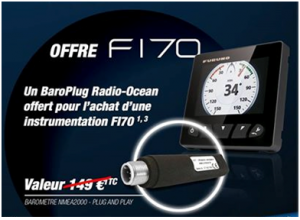 An economical way to enjoy of the unmissable innovation!
The BaroPlug "Dual", NMEA2000 Barometer is now eveneasier!
The simplicity of the BaroPlug allows it to choose the reading resolution. The measurement is displayed a resolution of millibar or one-tenth millibar (mb). It's also available in inches of mercury ("Hg).
You may also connect your BaroPlug with all NMEA2000 marine display equipment compatible, of new and old generation!
For one BaroPlug unit, there are two virtual BaroPlug; you simply have to select the BaroPlug from the list of the devices connected:
BaroPlug V2 (NMEA2000 V2 previous 2014, millibar resolution, 1012 mb)
BaroPlug V3 (NMEA2000 V3 later than 2014, one tenth millibar resolution, 1012,2 mb)
The BaroPlug is factory tested, it's could be eventually corrected by your NMEA2000 equipment.
Temperature is included in the information that it sent by the BaroPlug. For this, place the BaroPlug in a well-ventilated place, and shaded.
It will be an excellent measuring temperature device under shelters.
Come to discover the new video of our BaroPlug: https://www.youtube.com/watch?v=jmCE9y0lBZg