07 Nov

We celebrate our 20th anniversary at METS 2019 !
Let's go to METS 2019 !
We are happy to announce that we will be exhibiting at METS 2019 in Amsterdam (BOOTH 01.736) from 19 to 21 November 2019. 
We will take advantage of our 8th exhibition at this event to celebrate our 20 years during this exhibition show. 
Our ultrasonic wind sensors have been present on all the world's seas since 1999. We achieve more than 65% of our turnover from exports. 
After getting already rewarded with 2 DAME awards and one «jury's favorite choice», LCJ Capteurs keeps this mindset of continuous innovation. 
Our sensors are compatible with almost all the navigation instruments, thanks to our STBG interface.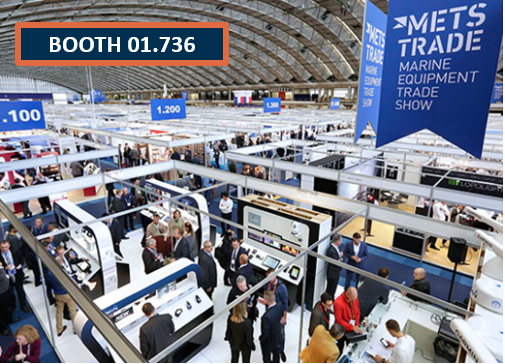 Come meet us !
Essential event in our objective of consolidation and international development, the Marine Equipment Trade Show 2019 in Amsterdam is a good opportunity to meet up with our clients, business partners and all the main actors of the marine industry. We are looking forward to welcoming our visitors at our BOOTH 01.736 from the 19th to the 21st of November 2019.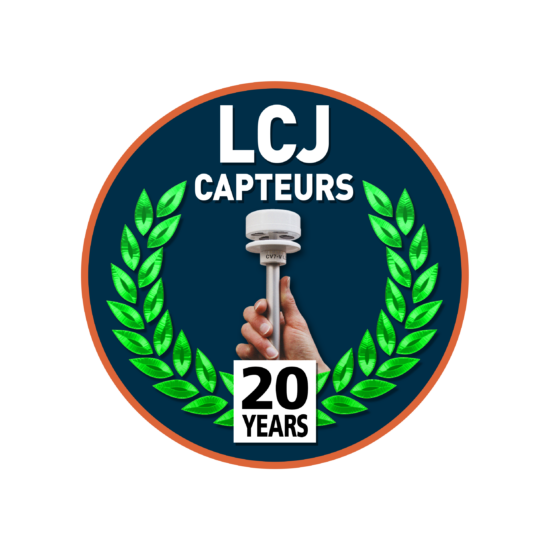 20 years old and not a single wrinkle !
During this 8th exhibition at the METSTRADE, we will be celebrating the 20th anniversary of LCJ Capteurs.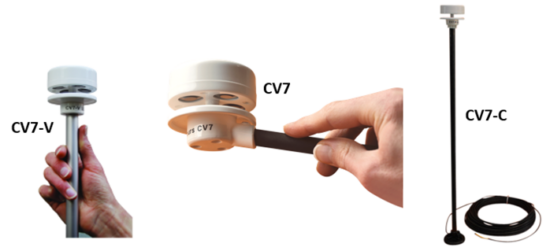 Mr Lamiraux started the ultrasonic wind sensors project in November 1999 and created LCJ Capteurs. Leaning on a strong experience in the nautic field with a significant career in radio-positioning in the National Marine, SERCEL and founder of MLR Electronique, he aimed to design and propose static, marinized, compact, lightweight, energy-efficient and affordable anemometers/wind vanes for the general public.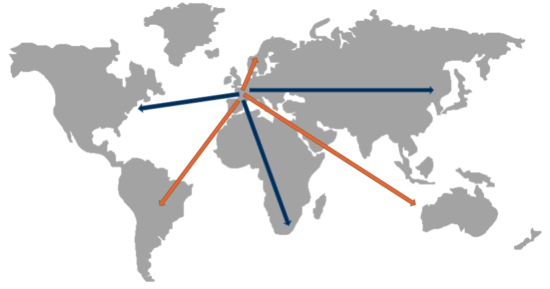 Our wind sensors are everywhere !
His successor, Christophe Michel, who took part in the company from the very beginning, took over the company in 2012. He has given to LCJ Capteurs a new impulse toward the terrestrial sector. He has developped the international business with the support of the « Pays de la Loire Region » and the Chamber of Commerce and Industry Nantes-Saint Nazaire. Now, with a solid reputation and a presence on all the seas and coasts of the globe, we have a turnover of more than 65% from exports.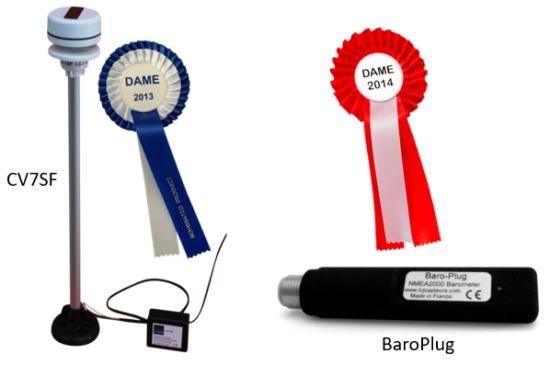 Our innovations already rewarded at METS !
This exhibition show allowed us to participate in the DAME Challenge, showcasing products regarding their design, functionality and innovation. We were rewarded 2 years in a row thanks to ultrasonic wireless wind vane/anemometer CV7SF in 2013and our barometer BaroPlug for NMEA2000 instrumention systems in 2014. We remain committed to offering innovative products to meet the requirements of all the recreational and professional sailors.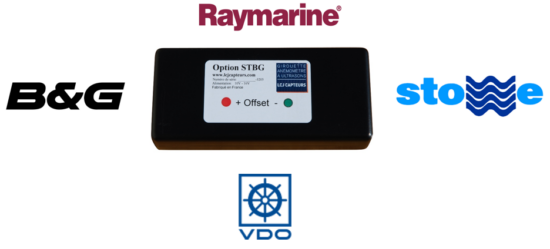 Why should you use our STBG interface ?
Whatever your equipment on board, new or old, the STBG interface is able to automatically communicate the wind direction and speed information given by the LCJ Capteurs wind vane/anemometer to your display.
The user is limited in the possibilities of wind angle offset calibration with : 
the NMEA2000,
SeaTalkNG,
as well as the NMEA0183.
That's why we have created an interface that converts the NMEA0183 of our sensors CV7, CV7-V and CV7-C into analog signals, imitating a mechanical mast head.
Raymarine Equipments (ST50, ST60, ST60+, iXX, ITC5 etc …):
2 phases for wind angle + 1 pulse for wind speed
B&G Equipments (Hornet iV, NetWork, HYDRA, HERCULE, H1000, H2000, H3000, H5000):
3 phases for wind angle + 1 pulse for wind speed
STOWE Equipments (Dataline, X, Navigator, IS11):
3 phases for direction + 1 pulse for wind speed
VDO Equipments
2 phases for wind angle + 1 pulse for wind speed
The user can adjust the wind angle offset in real time by pressing + and – buttons in a very simple way. We adapt very easily to the new standards when changing the navigation system.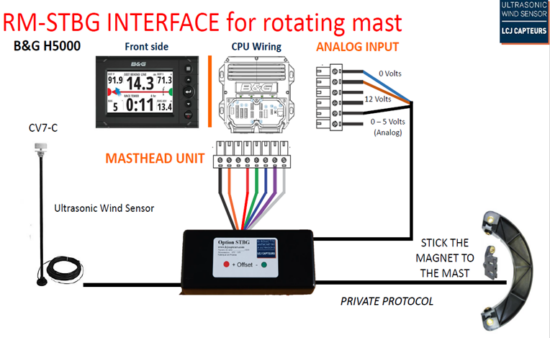 In addition, our interface is compatible with our static mast angle sensor SMART100. From now on, you can keep your navigation system and adjust your calibration thanks to the STBG junction box. Please check the diagram that helps to connect your screen B&G H5000.


Note that for SILVA equipments (NEXUS NX2, Furuno FI30, GARMIN FILAIRE), the option is native in all CV7, CV7-V and CV7-C by simple software configuration.

In other words, if your old masthead is out-of-date, we have the solution !