03 Apr

Are you thinking of replacing your outdated Raymarine or B&G masthead sensor with a CV7 ultrasonic wind sensor?
The STBG module is designed for you!
The universal STBG interface: What is it?
The universal STBG interface guarantees communication between our CV7 ultrasonic wind vane-wind speed sensor and your existing display, regardless of the model or brand. The STBG module will convert the NMEA0183® wind angle and speed data received by our CV7 ultrasonic wind sensor into analog format for your devices, whether old or new.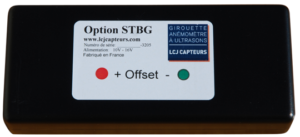 Are my existing devices compatible with the STBG module?
The STBG interface is compatible with a wide range of devices:
B&G® (Hornet IV, Hydra, Hercules, Network, H1000, H3000, H5000)
Raymarine® (ST60, ST60+, ST70, i series, iTC5)
Autohelm®, ST50
Navico®, WD200
Stowe®, Navigator, Stowe Dataline, Dataline X
Simrad®, IS11
VDO®
How can I integrate the STBG module into my existing equipment?
Nothing could be easier! All you have to do is make a basic connection to your existing installation. You will find below diagrams showing the wiring to enable connection to your display.
Brooks and Gatehouse (B&G)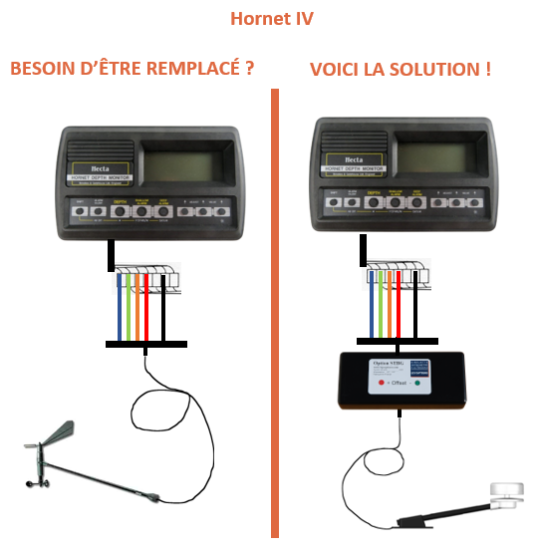 Wind vane, wind speed indicator for B&G Network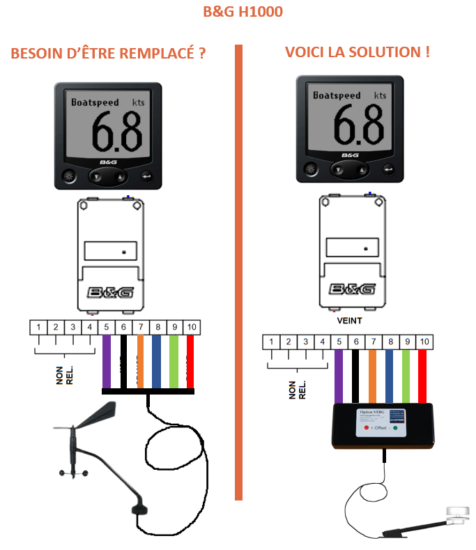 MHU 213 out of order, what should I do?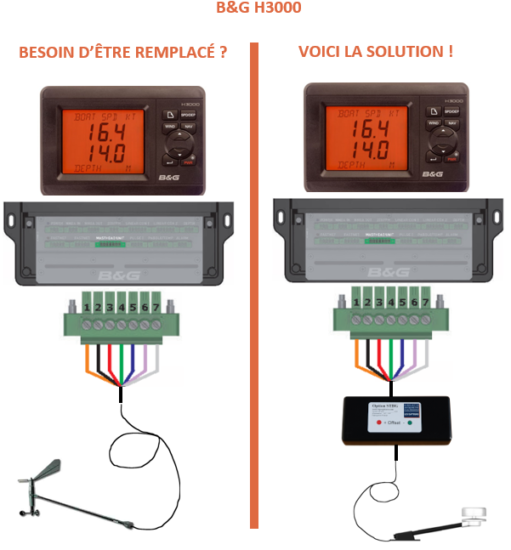 MHU wind sensor replacement

Which masthead sensor for Brooks & Gatehouse H3000?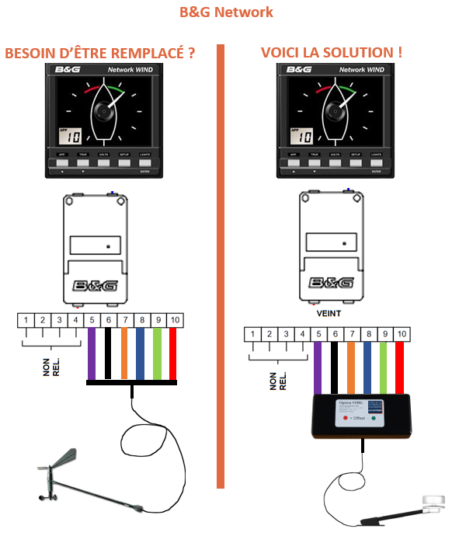 MHU wind sensor replacement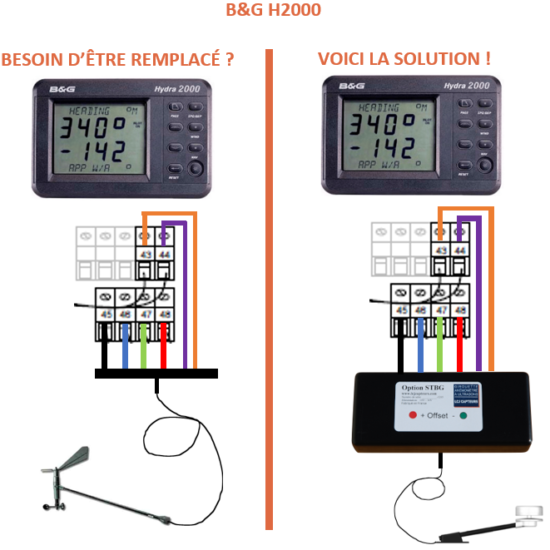 How to replace my wind sensor for a B&G H5000?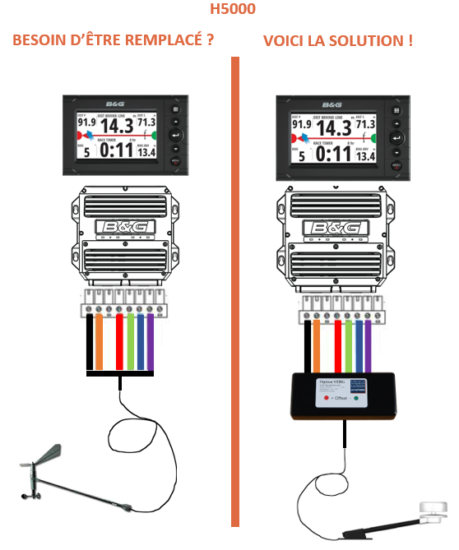 Replacement of Autohelm wind sensor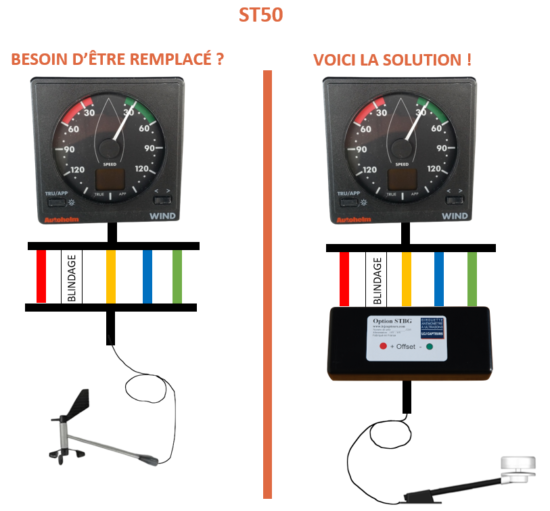 Raymarine wind vane/wind sensor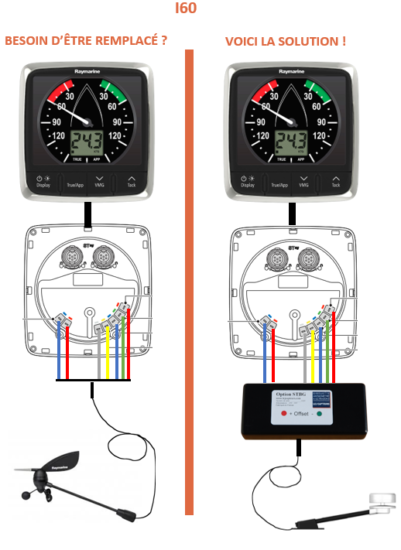 Raymarine ultrasonic wind sensor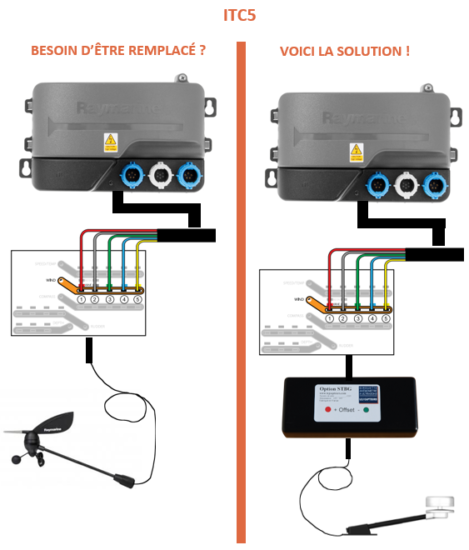 Which wind sensor for the ST60?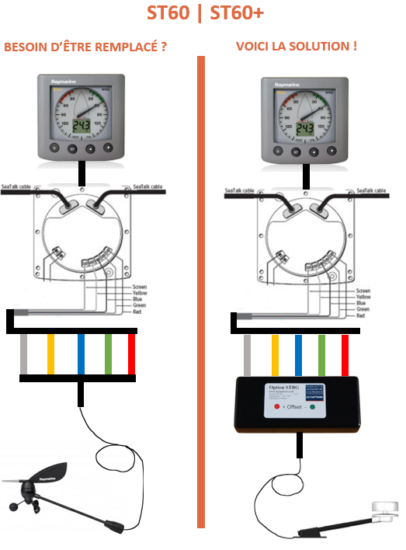 Choosing the right ultrasonic mast head sensor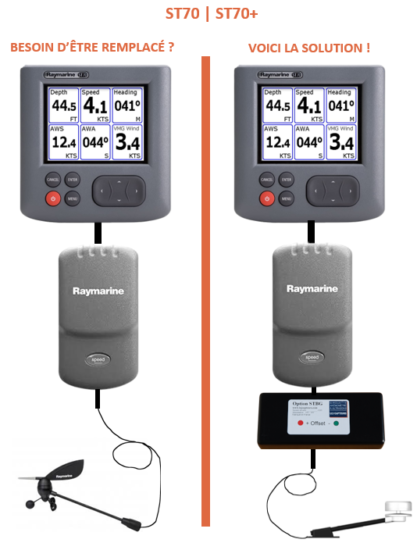 Wind sensor for Stowe Dataline X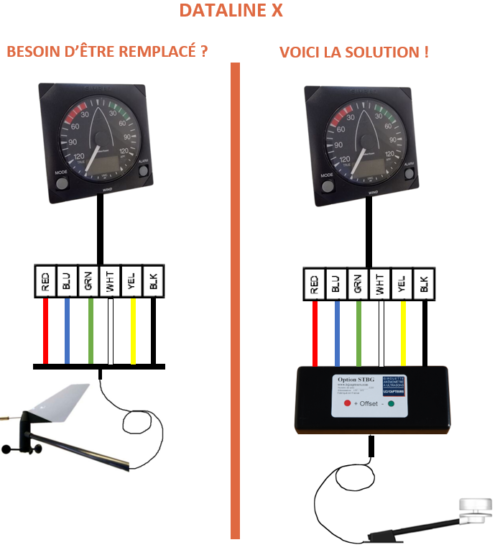 Tested on Stowe Robertson Dataline. Please contact us.
What are the STBG module advantages?
-The STBG universal interface allows you to keep your existing system, in particular your display.
–All of your usual wind sensor data is preserved, including the mast angle offset setting. Thanks to the STBG interface, your settings will also remain unchanged when using the NMEA 2000 protocol.
-If you wish to use the NMEA2000 network in the future, you can do so by replacing the STBG module by the Wind Plug interface, which allows you to transmit ultrasonic wind sensor data via the NMEA2000 protocol without having to replace your navigation equipment. In addition, the WindyPlug allows for the integration of an atmospheric pressure measuring function.
More information about the WindyPlug: : https://lcjcapteurs.com/en/windyplug-interface-is-now-available/).