26 Mar

LCJ Capteurs with the winners of the Bridgestone World Solar Challenge
Belgian students win the Brigestone World Solar Challenge with LCJ Capteurs
We are happy to have been able to contribute to the great victory of the Belgian engineering students and their AGORIA SOLAR TEAM during their participation in the Bridgestone World Solar Challenge, the world championship of solar cars in Australia.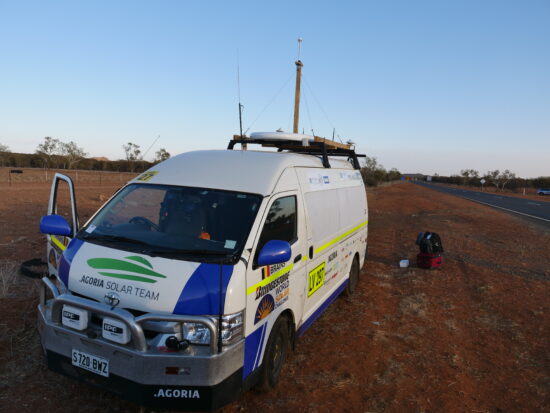 What is the objective of the CV7-EL-USB ultrasonic wind vane-anemometer in the Bridgestone World Solar Challenge?
The spectacular Bridgestone World Solar Challenge came to an end in the coastal city of Adelaide, South Australia, with the BluePoint solar car crossing the finish line on October 17, 2019 after a 3,020 km journey from Darwin. There was 19 students from the Belgian University of Leuven performed in engineering and innovation with the construction of this single-seat solar car.
Our CV7-EL-USB ultrasonic wind sensor equipped the AGORIA SOLAR TEAM reconnaissance car to determine strategic parameters such as
the efficiency of the solar panels in different wind conditions,
real time meteorological measurements during the race.
The influence of the wind allowed these student engineers to optimize the performance of their technology. We look forward to accompanying them again for the Sasol Solar Challenge 2020, a race in South Africa.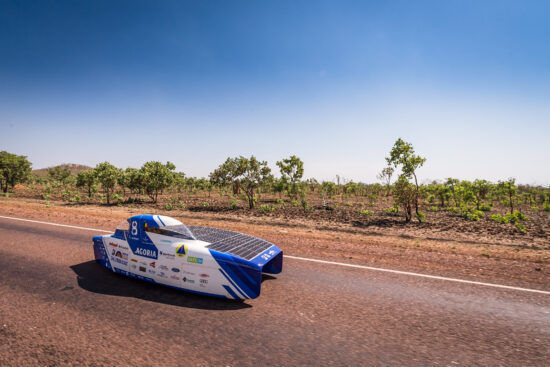 What is the CV7-EL-USB ultrasonic wind sensor?
The static wind vane-anemometer CV7-EL-USB is not necessarily available on our website. Indeed, it is a tailor-made realization for the students of the Belgian university. It is a mix between the ultrasonic wind sensor CV7-E and the USB interface.
On the one hand, we have the CV7-E which is an ultrasonic wind vane-anemometer dedicated to scientific applications. The sensor is designed to be installed on land and works twice as fast as the CV7 and CV7-V. Since its data refresh rate is 4 times per second. Moreover, it comes with a 25 meter cable. However, for this competition, the students needed a 5 meter cable. This explains the "L" in CV7-EL.
Finally, the USB interface allowed them to connect the wind sensor directly to their computer and analyze the data.