11 May

LCJ Capteurs chosen to transmit data from the wind both sides of the Atlantic.
Eotone is an installation that occupies the urban space while streaming a brand-new numerical symphony through wired objects.
Eotone is an interactive installation created by artists Herman Kolgen (QC) and David Letellier (FR).
Wind is a global meteorological phenomenon, one that is changing, intangible, but always felt. A source of both creation and destruction, it can take the form of a light breeze or a devastating hurricane. It scatters pollen, carries migratory birds, erodes mountains, moves deserts, and can destroy towns and forests in the blink of an eye. Currently a source of renewable energy, wind has always inspired people and made the first great ocean voyages possible. It is behind the discovery of unknown lands and the first human migrations. Always on the move, scoffing at borders, it is a natural and invisible tie between people.
With EOTONE, Kolgen and Letellier reflect on distance and weather, by staging something intangible yet powerful: the wind.
Four sound and sculptural diffusers, containing elements of both the weather vane and the fog horn, make up this monumental installation that renders in movement and sound the direction and force of the wind blowing simultaneously on two continents: in Montreal and Quebec City on one side of the Atlantic, in Rennes and Nantes on the other.
The wind data recorded by CV7-E in each city is transmitted live to the diffusers, controlling the orientation of each of the structures and orchestrating the combined chords that make up the harmonic whole perceived at the heart of the installation.By transforming weather data into sound, EOTONE offers a subtle artistic vision of the Internet of objects.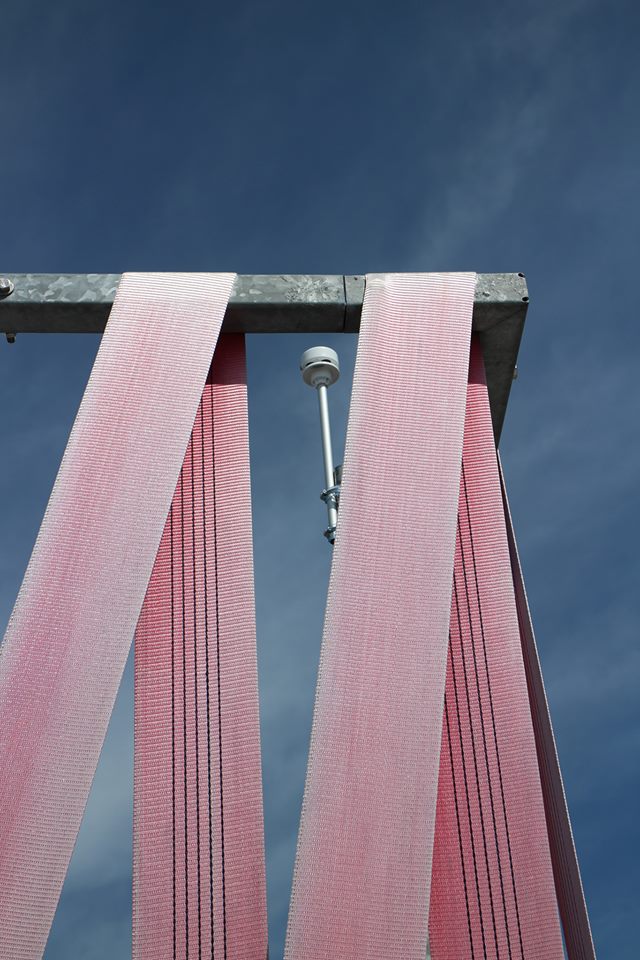 The product of a remarkable international collaboration, EOTONE was launched against a backdrop of cooperation between Quebec and France, uniting the dynamic forces of the ACREQ, producer of the Elektra Festival and the International Digital Arts Biennial (Montreal), Recto-Verso, producer of the Le Mois Multi Festival (Quebec City), Stereolux, producer of the Festival Scopitone (Nantes)
and Electroni[k], producer of the Festival Maintenant (Rennes). Together, through EOTONE they present new conceptual, poetic and technological moorings in the virtual intersections of their respective territories.
DATES DE PRÉSENTATION / PRESENTATION DATES
MONTRÉAL (QUÉBEC, CANADA)
BIENNALE INTERNATIONALE D'ART NUMÉRIQUE /
INTERNATIONAL DIGITAL ARTS BIENNIAL (BIAN)
23-30 MAI 2014 / MAY 23-30, 2014
PLACE DES FESTIVALS, QUARTIER DES SPECTACLES
BIANMONTREAL.CA
NANTES (FRANCE)
FESTIVAL SCOPITONE
15-21 SEPTEMBRE 2014 / SEPTEMBER 15-21, 2014
ESPLANADE DES TRACEURS DE COQUE, ÎLE DE NANTES
SCOPITONE.ORG
RENNES (FRANCE)
FESTIVAL MAINTENANT
14-19 OCTOBRE 2014 / OCTOBER 14-19, 2014
ESPLANADE DES CHAMPS LIBRES
MAINTENANT-FESTIVAL.FR
QUÉBEC (QUÉBEC, CANADA)
MOIS MULTI
FÉVRIER 2015, FEBRUARY 2015
LE MUSÉE NATIONAL DES BEAUX-ARTS DU QUÉBEC
MOISMULTI.ORG
—
Facebook : https://www.facebook.com/pages/Eotone/212867835504184
App Store : https://itunes.apple.com/ca/app/eotone/id787291073?mt=8
http://eotone.tumblr.com/