13 May

Any alternative to mechanical masthead ? Let's go ahead !
Change your wind vane-anemometer from a different brand without changing the bracket and cable? No problem!
Replacing your Gwind Race wind vane-anemometer with a CV7-E-OEM ultrasonic wind sensor is possible with LCJ Capteurs.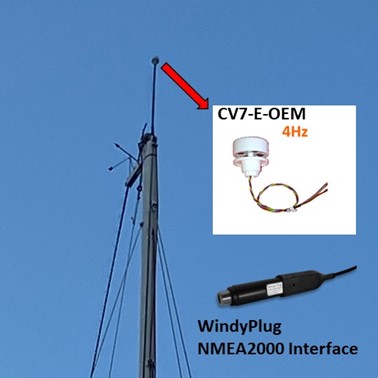 A Hong Kong-based sailor wanted to find an alternative to his mechanical Garmin GWind Race masthead. He wanted to integrate an OEM LCJ Capteurs version that was NMEA2000 compatible, without changing his existing bracket and cable.
He could have purchased our CV7-C-WindyPlug (NMEA2000) for his regatta boat, but he wanted to keep his existing installation.
LCJ Capteurs is listening to your needs!
Therefore, we recommended our OEM solution with a CV7-E-OEM ultrasonic wind vane-anemometer. It's the perfect alternative to mechanical masthead ! With the same features as our CV7-C, the data refresh rate is 4 times per second. He was able to attach the sensor himself to his carbon pole and thus connect the cables that were connected to his GWind Race.
The elevation above the mast of the boat is thus maintained in order to limit the turbulences generated by the air flow on the sails. In addition, our CV7-E-OEM ultrasonic wind sensor has a 16mm diameter standpipe adapter, identical to the GWind Race.
The Windyplug: perfect for connection to NMEA2000
Our WindyPlug interface also allowed him to connect his new setup to his NMEA2000 network.
A final software configuration was required to adjust the mast angle value. And that's it! This Hong Kong sailor is now very happy to have his Garmin navigation system back to normal.
LCJ Capteurs continues to adapt to your projects and custom setups.