21 Jun

Wind measurement in precision agriculture

LCJ Capteurs is known thanks to its iconic CV3F ultrasonic wind sensor, which has proven its performance and robustness in marine environments. Over the years, we have had the opportunity to collaborate with other land-based industries such as:
smart buildings,
weather stations,
fountains,
sports,
precision agriculture,
etc.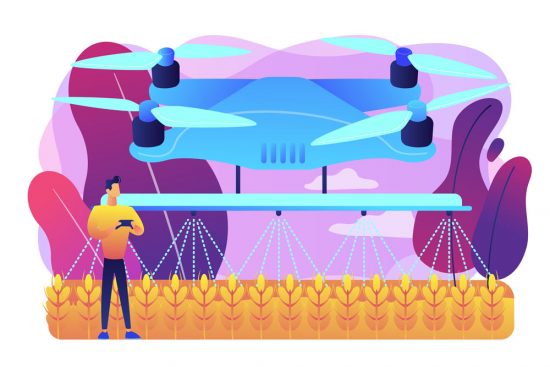 In addition, these different fields of activity allow us to discover other uses of our ultrasonic wind vane-anemometers.
That's why we published an article on frost risk management and also talked about the importance of wind measurement in agriculture. If wind is a solution to prevent from frost risk, it also helps to develop agricultural operations. In fact, measuring the wind helps to save resources used during spreading or spraying.
What is precision agriculture ?
According to the media The Horizons, precision agriculture is based on the use of new technologies to increase the yield of a land plot while reducing energy and input consumption.
The goal is to be as productive with fewer resources or to have a more sustainable production.
Through decision-making tools such as web or mobile applications, farmers have the ability to access the data from :
satellites,
drones,
connected sensors.
What are the benefits of precision agriculture?
For farmers, precision agriculture allows to improve their daily life and brings them some important benefits such as :
More agronomic expertise to avoid over – and under – dosing problems;
Better crop management;
Better understanding of the functioning of the soil-crop couple in relation to the weather;
More savings and limitation of environmental impact with a better use of inputs;
Promoting the profession's image.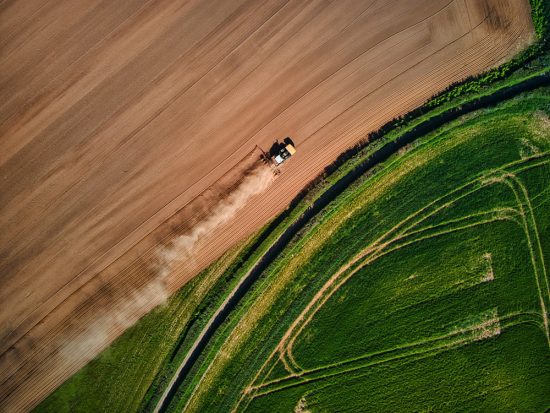 What about wind measurement in precision agriculture ?

The wind is a well-known constraint for farmers during irrigation, spreading or spraying. We can take the example of phytosanitary products which start to deflect from 15km/h of wind. Moreover, the spraying or dusting of these products is forbidden when the wind speed reaches level 3 of the Beaufort scale, i.e. more than 19 km/h.
The deflection of these products is an environmental issue when they reach inhabitable areas for example. On the other hand, plant protection products represent one of the main costs for farms and this can generate additional financial costs.
With our ultrasonic wind sensors, wind measurement in precision agriculture allows spraying at the right time, in the right place and at the right quantity.
Some actors in precision agriculture
In recent years, many start-ups have developed in precision agriculture. While some of them are competitors, they focus on certain crops or a particular weather risk.
For example, Dilepix is a French company from Bretagne that uses artificial intelligence to develop sustainable agriculture. They work on optimization of agricultural robots, animal monitoring and disease prevention on plants.
There are many players in this field. Here is a brief presentation of some of them:
With their Unimap app, the Argentinian company supports sustainable agriculture. Their solution is available on smartphone, tablet or computer. This application helps farmers to make the right decisions with access to all data and have an alert if needed. Acronex uses our CV7-OEM ultrasonic wind sensors to equip on-board sprayers on farm machinery.
Their 100% online platform allows to manage all the data and activities of the farm. Myeasyfarm includes 10 key functions: plot management, equipment management, task planning, input modulation, automated documentation, costing, data analysis, weather, real-time monitoring and all plot information in one place. Myeasyfarm is a partner of Sencrop, Weenat and Isagri.
With its intelligent metal structure, the system creates a microclimate to protect itself from climatic hazards according to the plants' needs. This allows operators to have:
an increased yield,
a temperature regulation,
an improvement in crop quality,
an irrigation control
an optimized use of crop protection inputs.
Other precision agriculture players include Abelio, Dilepix, Amazone.de, OneSoil, Agdatahub and WeatherMeasures.
Examples of wind measurement in precision agriculture
Sictag project: study to improve the use of antifreeze towers
The Sictag is a project that brings together more than 10 actors related to viticulture and agronomic innovation including:
INRAE,
WeatherMeasures,
Dalkia froid solution,
Scanopy,
Vinopol,
CNRS etc.
This study project brings together agricultural engineers for the protection of crops, especially vineyards. The current study, which is taking place in the vineyard of Quincy, aims to characterize and propose a better use of antifreeze towers. A project funded in large part by the European Union via the EIP (European Partnership for Innovation) and the Centre Val de Loire region.
A member of the project explains the Sictag project
PhD student Clara Le Cap was kind enough to answer a few questions about this. She works for WeatherMeasures and INRAE to complete her thesis on the SICTAG project. Her research includes numerical simulations and field measurements that aim to:
Characterizing the distribution of temperature over the vineyard according to weather
Topography
Characterize the aeraulic jet (airflow) of the antifreeze tower (all with the goal of proposing better use and placement of the towers across the estate).
The INRAE team designed specific equipment for this project. Data acquisition systems were used to record and visualize the measurements in real time. These acquisition systems are connected to measurement devices to collect data from our CV7-E ultrasonic vane-anemometers and thermocouples. Wind measurements at 4Hz were used over several hours to analyze data generated by the frost tower and the environment such as:
the wind speed,
the wind direction,
and temperature with other precision sensors.
In more detail, using a 10m mast (which illustrates your article) we can measure the vertical profile of the jet by regularly attaching CV7 ultrasonic wind vane-anemometers. By making measurements at different distances from the tower, we hope to reconstruct the shape of the jet and its range to estimate the extent of protection the tower provides on a plot.
Ms. Le Cap also explains that the data collected during the measurements are being analyzed at this time. Future measurements are already being thought of for next fall to estimate the extent of frost protection for the towers through 15 CV7-E ultrasonic wind sensors. It adds great satisfaction with the responsiveness of the LCJ Capteurs ultrasonic wind vane-anemometers, especially when compared to other ultrasonic wind sensor models.
Acronex, a focus on wind measurement!
The Argentinian company is developing precision agriculture in Latin America, particularly in Argentina. Acronex is a good example of wind measurement in precision agriculture. Our CV7-OEM ultrasonic wind vane-anemometers, mounted on a tube with complementary sensors, equip farm machinery as a centerpiece of the concept.
The firm's main product is Unimap, an online platform that aggregates all farm data. Its operation is independent of any GPS or other native system on the machine. Unimap is accessible via smartphone and alerts with a notification or e-mail when an anomaly appears on the farm.
The measurements have several uses depending on the type of agricultural machinery. Indeed, our ultrasonic wind sensors and the Unimap software are available for machines such as: sprayers, direct seeding machines or combine harvesters.
The wind measurement will allow to calculate the drift of the different projections made by the agricultural machines. The projections can be products such as:
fertilizer,
plant protection products;
seed,
In addition, during the harvest, it allows to measure the wind speed to avoid clouds of dust that can be directed to homes.
Amazone.de, the future of agricultural equipment!
Amazone.de is a German manufacturer of agricultural machinery, which concentrates all technologies for the optimization of farms. Innovation is at the heart of their business, offering high quality standards. It also contributes to the development of modern and economical cultivation processes.
Among their products Amazone.de uses the WindControl technology, which was developed on the basis of the studies of Prof. Dr. Karl Wild at the German university HTW Dresden. An innovation that has won over as the technology is a winner of the SIMA Innovation Awards in 2019.
WindControl is an option on their ZA-TS mounted spreader and ZG-TS trailed spreader, recommended for windy areas. Unfortunately, their technology does not make use of our wind meters.
The WindControl works with a directional anemometer mounted on the machine, where the influence of the wind is constantly monitored. During spreading, the curve is automatically compensated according to the wind speed and direction. Its operation is based on an on-board computer that calculates its own data, where new settings are made to the feeding system and spreading disc speed.
For example, in the case of a side wind, the speed of the discs increases on the side facing the wind and the feeding system is turned inwards.
In case the wind is too strong, an automatic WindControl signal warns the operator, as the system will no longer be able to compensate for strong wind gusts.
Wind measurement in precision agriculture: what future?
As we have seen, many companies have developed technologies related to wind measurement, for different uses. We are now convinced that other technologies will be developed to reduce the influence of wind in agriculture.
As a reminder, the objective of precision agriculture is to produce sustainably with fewer resources. LCJ Capteurs and its ultrasonic wind sensors are already ready to take up the many challenges that arise to contribute to the development of precision agriculture.